World in a Day Festival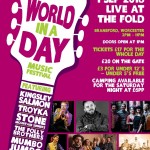 2018 featured this our first ever World Music Festival. Held at The Fold near Worcester it was a really lovely event with some real quality performances and a fine crowd. www.worldinadayfestival.co.uk
Upton Blues Festival
Oliver & Sue have been heavily involved for eight years in the Upton Blues Festival – www.uptonbluesfestival.org.uk – which completely overwhelms the pretty riverside town of Upton upon Severn in Worcestershire with people, music and activity. Completely self supporting without any major sponsors or public funding, this remarkable festival is the biggest completely free blues festival in the UK.
From 2009 to 2015 the JCF marquee and stage have been a fundamental part of the event – now outgrown in 2016 – and their availability has been important to the festival's unbelievable development over the last few years.
Oliver has just retired as Chair of the Volunteer Organising Committee and continues to be a Trustee of the Registered Charity.
Blues at Broom Hill
Our latest festival, held in the Warwickshire, Worcestershire, Oxfordshire confluence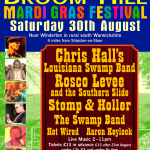 in conjunction with Tim Porter, one of the great unsung heroes of British Blues. Now it has completed its third year, Blues at Broom Hill works on a different idea by having a different 'theme' every year, with the music, food etc all grooving to a certain beat. Tim is now running this event single handed with the help of the JCF stage and marquee.
More information from www.bluesatbroomhill.co.uk
Jinney Ring Blues Festival
We launched the Jinney Ring Blues Festival in 2009 and handed it over to the Jinney Ring to continue in 2014/15. It is held in a great garden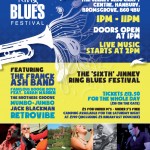 setting with lakes and ducks and loveliness, using our big and bright marquee. Great food and drink, the event is usually combined with a beer festival so plenty of choice of beers and ciders.
Again, the range of bands is terrific, from blues to soul, to swing, to acoustic etc etc. and audiences are almost 450. The JCF stage and marquee are fundamental to the event (and also to the Jinney Ring's Folk Festival.
More information from www.jinneyringblues.co.uk
Blues at The Fold
We launched Blues at The Fold in 2009 and handed it over to The Fold to run in 2014/15. We had developed the event to reach attendances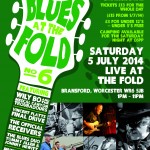 currently running at around 600 people every year, Blues at The Fold is a lovely, relaxed, and happy festival attracting mostly local people but also some visitors each year from all over the country.
The Fold has now decided not to run this event anymore.
Taurus Blues
A festival we ran for three years in Gloucestershire at the very lovely setting of the Taurus Crafts Centre in Lydney.
Wichenford Blues Festival
Our first ever event and the one that set us on the path of organising small festivals. We moved the event to The Fold where it became Blues at The Fold.